Z-planner allows designers to use manufacturer-specific material parameters.  The Dielectric Materials Library provides a central-administrative environment for managing and deploying qualified PCB laminate materials from 150 laminate families, including frequency-dependent Dk and Df for thousands of core and prepreg combinations right out of the box. And Z-planner allows you to filter the laminate library on any mechanical or electrical parameter or to create your own local or shared corporate library.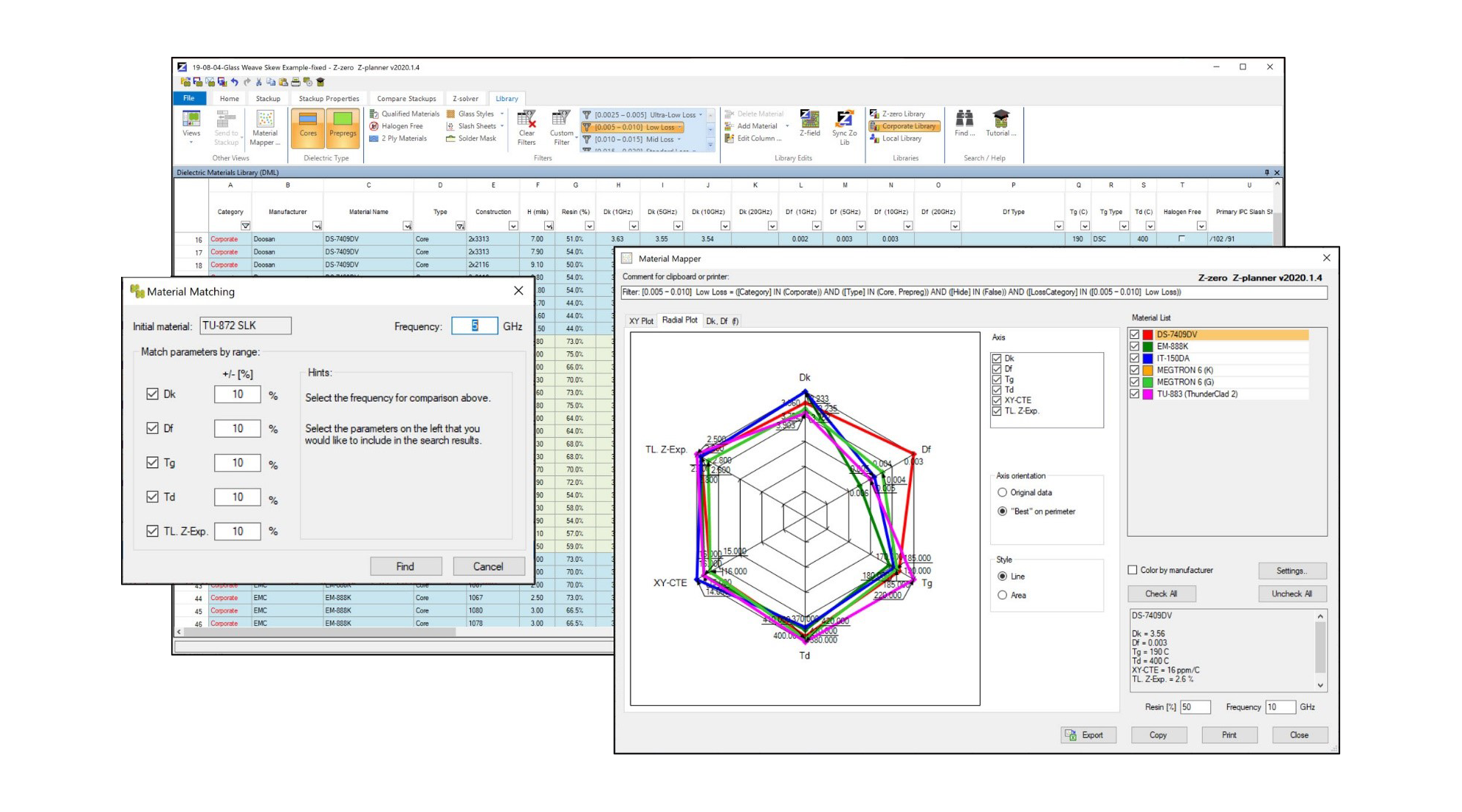 PCB Materials and Stackup Design
PCB stackup design plays a central role in overall system performance. A poorly designed PCB stackup with suboptimal material selection can degrade the electrical performance of the system, affect manufacturability and long-term reliability of the finished product, and result in unnecessary manufacturing costs through overdesign, or field failure due to under-design.
High-layer count PCBs can suffer from lamination and drilling challenges in the PCB manufacturing process. Together with low-loss materials, they put added cost pressure on the system designer. To meet these challenges, designers must understand the material properties that influence signal loss and PCB manufacturability in order to properly select the best performance material at the lowest cost for a successful and robust design.  For this reason, Z-planner software libraries include both electrical and mechanical laminate parameters.
PCB Laminate Partners
The following laminate materials partners have worked with Z-zero to provide helpful libraries, sortable and searchable on every material parameter you can think of (listed alphabetically).
AGC-Nelco (USA) – AGC-Nelco Corp. makes high-technology digital and RF/microwave printed circuit materials principally for the telecommunications and internet infrastructure, enterprise and military/aerospace markets. Manufacturing facilities are located in Kansas, Singapore, France, Arizona and California, with R&D in Arizona, Kansas and Singapore.
Doosan (Korea) – From laminates for home electronics, semiconductors and network boards to eco-friendly halogen-free CCLs, Doosan offers a wide portfolio of products. The Z-planner library for Doosan includes their high-layer count, low loss laminates.
Isola (USA) – Isola's high-performance materials are used in a diverse range of electronic end-markets including applications in computers, networking and communications equipment, high-end consumer electronics, as well as products designed for use in the advanced automotive, aerospace, military and medical markets.  Isola's global footprint includes eight manufacturing facilities and three research centers located in Asia, Europe and the United States.
ITEQ (Taiwan) – ITEQ Corporation has five manufacturing sites in Taiwan, Southern China, and Eastern China. Products range from halogen free materials to high performance, low loss materials suitable for lead free processing, as well as rigid-flex materials.
Nan Ya CCL is the worldwide market share leader for PCB laminates.  As the PCB industry's only vertically-integrated manufacturer, Nanya supplies prepreg and laminate materials, as well as solder mask, resin, yarn/fabric, and with full PCB fabrication and assembly capabilities in Taiwan and China.  Specializing in lead-free and halogen-free materials, Nanya Plastics manufactures laminates for use in automotive applications, industrial automation, gaming, IC substrates, LCDs, mobile phones, personal computers, network switches, routers and servers, tablets, and many more electronic devices.
Panasonic (Japan) – Panasonic Electronic Materials is a technology innovator in copper-clad laminates—with a pace-setting roadmap for high-speed, low-loss and thermally robust substrates, including the popular MEGTRON series.
Shengyi Technologies (China) – Shengyi Technology Co, Ltd. (SYTECH) is a world leader in the development and production of laminates. The company provides a complete portfolio of products ranging from composites to high reliability, thermal management, HSD and RF/PTFE laminate materials. Shengyi's products are used in single-sided, double-sided and multilayer printed circuit boards and the company's global customer base spans a broad spectrum of markets including mobile phones, automotive, telecommunication equipment and higher-level electrical products.
Taiwan Union Technology Corporation (TUC, Taiwan) – TUC works with its customers and focuses on innovation, research and development to provide superior quality, professional support, value-added materials and advanced mass lamination service – with a focus on the following material characteristics: high speed/low loss, lead-free compatible and halogen free, low CTE and superior chemical and thermal resistance, and rigid-flex applications. TUC obtains many international certificates, such as QC080000 IECQ HSPM, Sony Green Partner, ISO 14001, TS16949, ISO 9001 and OHSAS 18001.
Ventec International (China) – Ventec designs, develops, manufactures and sells high quality copper clad laminates and prepreg bonding materials for the fabrication of a wide variety of printed circuit board (PCB) applications. With headquarters in Suzhou, PRC, Ventec International Group (VIG) is a world leader in the production of high quality, high performance copper clad laminates and prepregs used in a wide range of Printed Circuit Board (PCB) and associated applications. Ventec has full in-house R&D capabilities and works closely with customers to customize and develop products that meet their specific needs.
Download the Laminate Library Datasheet